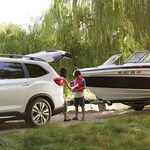 Families desiring a spacious and versatile vehicle choose the Ascent. The vehicles are elegant and stylish while providing plenty of interior space for passengers and cargo. See the latest models by stopping by our Certified Preowned.com facility. Indulge in a test drive with the family.
Smooth curves combine with sharp lines to give the Ascent a dramatic but elegant appearance. Prospective owners have their choice of nine different body colors. The well-appointed interior is upholstered in ivory, brown or black cloth or leather.
The vehicles are powered by a four-cylinder, 2.4-liter turbocharged engine that delivers up to 260 horsepower. The engines are paired with continuously variable transmissions. Together, the powertrain enables the Ascent to haul up to 5,000 pounds. But, the large SUVs have a fuel rating of 21 miles per gallon while driving in town and 27 miles per gallon when traveling the open road.