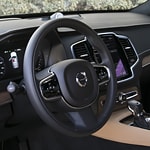 The Volvo XC90 has everything you want in a luxury SUV: great looks, advanced safety features, a roomy cabin, and in-cabin amenities. These features and their performance make it an extremely popular pick in its category. Our Certified Preowned.com team especially likes the hybrid automatic-manual transmission. Here are two other performance features that we love.
Paddle Gear Shifters
For those who like the feel of a clutch and the precision of automatic transmission, the Volvo XC90 paddle shifters are the answer. They're located conveniently near the steering wheel, allowing you to shift gears seamlessly without removing your hands from the wheel or taking your eyes off of the road.
Brilliant, Bump-Free Ride
The Volvo XC90 glides over country roads and roads in Austin, TX like a bird. Its chassis' high ground clearance, leaf-spring rear suspension, and double-wishbone front suspension flow over tough terrain, absorbing shock and bumps for a smooth, luxurious ride feel.
Visit our Austin, TX Certified Preowned.com today for a Volvo XC90 test drive. We look forward to meeting you.